July 27th, 2020
Every man must decide whether he will walk in the light of creative altruism or in the darkness of destructive selfishness. Martin Luther King Jr.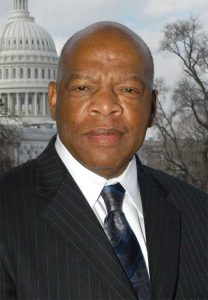 John Lewis, a prominent black activist, a 30 year member of the US Congress and an unwavering, courageous civil rights leader died last week at the age of 80. He will be buried at a private, family ceremony in the cemetery of the Ebenezer Baptist Church in Atlanta Georgia on Thursday.
From his early 20's, when he was seriously injured while on a protest march across the Edmund Pettus Bridge with Martin Luther King, he never stopped fighting against the social inequality and racial injustice directed towards young black men and indeed, against all people of colour. He was continually in good trouble. There is a new documentary about John. (Click here to watch the trailer)
It could not have been an easy journey, I'm sure, but he continued to speak out. Just last June, accompanied by the mayor of Washington, D.C., Muriel Bower, another brave soul, he walked a section of Pennsylvania Avenue emblazoned with huge yellow letters, a "powerful work of art" he exclaimed, that read Black Lives Matter. 
With his passing America has lost another of the country's heroes. 
"If you see something, he used to say, "do something". The huge yellow letters painted on the street was a sure sign directed to the White House that America is faltering.
America's position as the leader of the free Western world was never called into question. Now not so much. At this time particularly, wracked by COVID-19 with 149,000 dead and increasing daily and millions of lives threatened by the looming economic upheaval, the country desperately needs a new generation of altruistic leaders, men and woman who are willing, when they see something, to do something.
To get into 'Good Trouble' and start putting the country back together again.
Fingers crossed…
Stay safe. Stay strong. Stay connected.
---
NEWS! My new book Dare To Be You, Five Bold Steps to Power Up Your Life, is successfully launched and I'm now a best selling Amazon author. If personal transformation is on your agenda, I encourage you to read the introduction.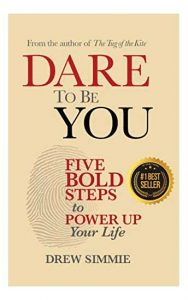 If that is resonating, pick up a copy of the Dare To Be You eBook. It is packed with many helpful hints to help you find your path in this new world we're all living in now. Order here.  Or to purchase a personally signed copy of the Soft Cover Edition, or order bulk quantities for your team members, business associates or even family and friends, email info@drewsimmie.com for information.