September 7, 2020
A Brighter Future
"The future is called 'perhaps,' which is the only thing to call the future. And the important thing is not to allow that to scare you." Tennessee Williams
As the world begins to reopen and we all start to think about how to grapple with the new reality, the over-arching question is, "where do you go from here?"
That is, after you get a haircut or dye your roots!
It isn't going to be easy In this time of global economic, social and political upheaval, all options are on the table. And the issue of climate change isn't going to go away any time soon.
So how do you get on to what next in these crazy times?
Where do you start?
Start at the beginning. By taking responsibility for yourself. Have a quiet talk with yourself. Establish what you really value and what you know, in your heart of hearts, you're all about. And whom you want to serve.
You get to decide how you live your life. The freedom is yours to choose and even when it feels impossible, it's not. For those that want it bad enough, the future's up ahead. Get ready. it's going to be different!

NEWS UPDATE!  The past few weeks have been an exciting time for me. My new book Dare To Be You, Five Bold Steps to Power Up Your Life, is successfully launched and and I'm now a best selling Amazon author. If personal transformation is on your agenda, I encourage you to read the introduction.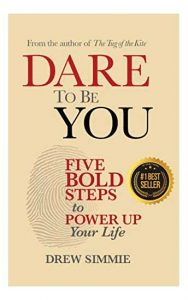 If that is resonating, pick up a copy of the Dare To Be You eBook. It is packed with many helpful hints to help you find your path in this new world we're all living in now. Order here.  Or to purchase a personally signed copy of the Soft Cover Edition, or order bulk quantities for your team members, business associates or even family and friends, email info@drewsimmie.com for information.